Small Businesses Are Short-Staffed and Overwhelmed
COVID-19 kicked off a severe labor shortage — and the most challenging hiring conditions for small businesses in many years. Many owners have had to turn away orders (and revenue), disappoint customers, or work 80-hour weeks to help fill the labor gap, none of which is likely to be sustainable.



Workers sidelined by the pandemic may seek work again at some point, but longer-term factors such as declining birth rates, less immigration, and a wave of baby boomer retirements mean the pool of available workers is shrinking and aging. As a result, labor market conditions could remain tight for some time.
What can small-business owners do if they are struggling to meet staffing needs?
Look closely at compensation. It can be hard for a small business to compete with larger companies when it comes to pay and benefit packages. However, offering competitive wages may be necessary to attract job applicants for open positions and keep reliable employees from seeking better opportunities. In fact, a July 2022 survey found that 48% of small businesses had recently raised wages, and 25% were planning to do so in the next three months.1
Be willing to bend. It's ideal if you can find employees with skills and experience that match your immediate needs, but those applicants may be few and far between. You might consider lowering the minimum qualifications for hard-to-fill positions, offering on-the-job training for less-experienced workers who seem capable and motivated to improve their skills, or cross-training current employees to fill different roles. It may be easier to find and retain good employees if you accommodate the scheduling needs of students, parents with young children, and older workers who are semi-retired.
Explore stop-gap solutions. To cover seasonal surges or hiring gaps, ask your most productive employees if they are willing to work overtime at higher wages. Otherwise, you might rely on a staffing service to provide temporary or on-call workers. An app-based service, designed to help fill open shifts with "on-demand" workers, may be useful in certain areas and industries (retail and hospitality, for example). Staffing services may insure, screen, and check the backgrounds of provided workers, but they also charge more per hour to cover their costs.
---
Percentage of Small Businesses with Unfilled Job Openings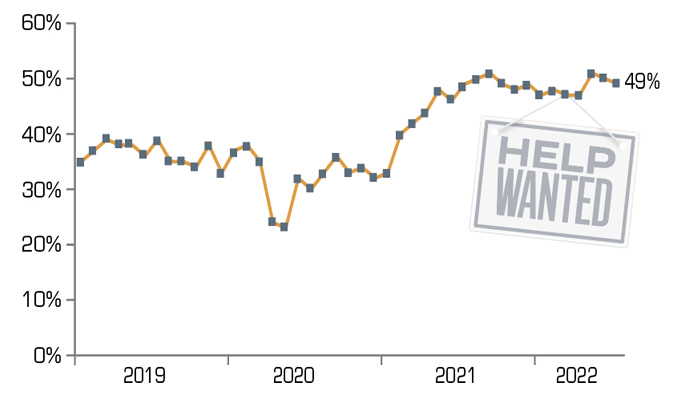 Source: National Federation of Independent Business, 2022 (data through July 2022)
---
Although it may take time, hand-picking your own permanent employees — and doing what you can to keep them — generally enhances stability and customer service. It's also likely to be more cost-effective in the long run.