Sticker Shock May Drive Consumers to Used Cars
The average transaction price of a new car or light truck was $36,733 in March 2019, up 2.3% from a year earlier.1 New 2020 models will hit showrooms in August and September, and it's probably safe to say they won't be less expensive.
If cost were not a concern, most people might prefer a new car for a variety of reasons: the most recent technology and fuel-efficiency standards, choice of color and features, no wear and tear, a manufacturer's warranty, and that new car smell. But a quality used vehicle can be an appealing, cost-effective option. Here are three trends that could make 2019 a good year to buy a used car, especially a three-year-old vehicle.
Record lease returns. Leases reached a record 4.3 million in 2016, which was also the first year that leases for popular sport utility vehicles exceeded leases for other cars. Most of these vehicles are scheduled to be returned in 2019, flooding the market with quality three-year-old vehicles — and many 2016 models include newer technology and fuel efficiency.2 Leased vehicles are typically in good condition because leaseholders must maintain the vehicle and limit mileage in order to avoid additional charges.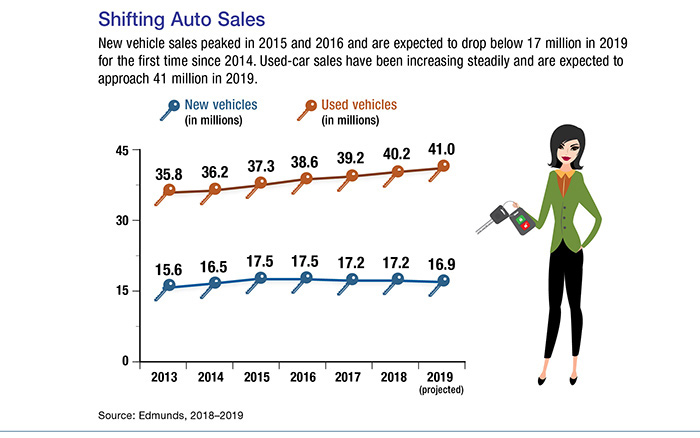 Growing price differential. The price gap between new and three-year-old vehicles increased 20% between 2013 and 2018, from $11,398 to $13,705.3 The gap may be even wider in 2019 due to the large number of lease returns.
Tighter interest spreads. Until recently, the low-interest-rate environment enabled manufacturers to offer subsidized finance programs on new cars with very generous terms, including 0% interest rates. That has changed as rates in general have risen, and the spread between rates for loans on new and used vehicles narrowed to just 2.7% in 2018, with an average rate of 5.7% for new cars and 8.4% for used cars. By comparison, the spread was 4.0% as recently as 2012.4
Interest rates continued to rise in early 2019, but consumers with excellent credit ratings can still find lower rates, including some 0% offers on new cars. Lenders are offering longer loan periods to help keep payments down, but bear in mind that longer periods equate to higher total interest over the life of the loan.5
Certified Pre-Owned Vehicles
The term "certified pre-owned" (CPO) may sound like a fancy name for a used car, but these vehicles can be appealing if you don't want to pay new car prices. A CPO vehicle goes through a comprehensive inspection and maintenance process and comes with a factory-backed limited warranty and other benefits, such as roadside assistance and access to loaner cars. Some CPO vehicles may even include routine maintenance for a limited period.
A CPO vehicle will generally be more expensive than a similar non-certified used vehicle, but the additional expense may be worthwhile for added confidence in the quality and reliability of the vehicle. Dealers may also offer better loan terms on a CPO vehicle. A factory CPO vehicle can be offered only by a franchise dealer of the original manufacturer. Other dealers may call vehicles "certified" that have gone through an inspection and maintenance and come with a third-party warranty.